You found me!
Hello and aloha from the spectacular island of Kauai, Hawaii.  My name is Joy Jonah, also known as Popo to my husband, my two lively granddaughters and a few family members and close friends (Popo translates to grandma in Chinese)…
Here's our charming, Hawaiian plantation style home. Where we live on the quiet north shore of Kauai.  A thirty minute drive from the nearest traffic light or fast food restaurant, seriously…
Sharing my simple, but adventurous island lifestyle is my sweet and oh so handsome hubby, Michael.
Michael and I's 8 year old, little surfer dude son, Maximus, aka Max (the youngest of four, his closest sibling is 27 years old, please don't think I'm crazy yet)…
And our cat, Little Lily Whiskers, aka Lily (who was born in a water jug in the mountains of Kauai, and likes to nap in bowls).
How it started…
At the repetitive encouragement of my daughter, Jadah (who is now a wife and mom herself), that I share my life's adventures and successful formulas for living a life filled with comfort and joy.  It is now 2011, in my 50th year of life, that my comfort lifestyle blog, Joy Beyond Fifty officially begins.
Over the past eight years, I have been a happy stay at home mom (for the very first time ever, after being a hard working mom since the age of 18), a popo (grandma), a real estate professional, an emerging artist, and a new blogger .  One who channels her inner Martha Stewart (from my mom's side), blended with the calm of my own inherent Zen (from my dad's side).
You're invited to share reflections of my early life (warning…past confessions are true, but sometimes unbelievable, even to me they seem like another life at times).
First confession…more than two decades ago, I was a young, overworked mom with three young children, forced to live in a public shelter, among other things I sometimes wish my memory could delete.
Today, at age 50, I have found my paradise.  Living a blissfully married, family life .  A life filled with true love, comfort, adventure and simplicity, on the peaceful, yet wildly exotic paradise of Kauai.
It's not easy to gain a simple yet adventurous life, but it's completely possible (think…Cinderella).  I hope by sharing my real life experiences, past, present and future, you will find inspiration and your own paradise, wherever you may be in life.
Comfort and Joy come in many different forms…
Family and friends.  Real family excerpts.  Including personal thoughts that sustain a blissful and playful marriage.  Adult children's crisis advice sessions.  Having fun the second time around with a school aged boy (this time I'm the "old" mom), and my own modern spin on grand parenting.
Food and drink.  Spice up your recipe box, I'm revealing ancient family recipes, healthy spins on comfort foods and watch how I sneak healthy ingredients into my finicky boys favorite foods (I hope my boys don't read this).  Beachside cuisine and libation recipes so your cup may always be full of comfort drinks and truly tasty cocktails.
Home and comforts.  Inspiring ideas to create your own peaceful home.  DIY projects, creative style, decor and organization tips, holiday traditions (our holiday home blends Christmas and Hanukkah seamlessly now) and entertaining classically, with exciting flair.
Relaxing travel to exotic adventures.  A local girl's insight to the Hawaiian Islands, 50 places or things to see or do beyond 50, family and girl getaways, romantic couple travel to Bora Bora, Mexico and beyond (and why room service should be viewed as a worthy investment).
Health and beauty.  Together, we'll continually develop a vibrant and healthy mind and body, full of grace (and an occasional sigh, when the 20 year old mom whizzes by pushing her jogging stroller on the beach, with not one bodily thing jiggling) while rocking the years beyond fifty with pure joy!
Here's my whole brood enjoying spectacular Hanalei Bay, Kauai together.  They're my happily ever after…Aloha!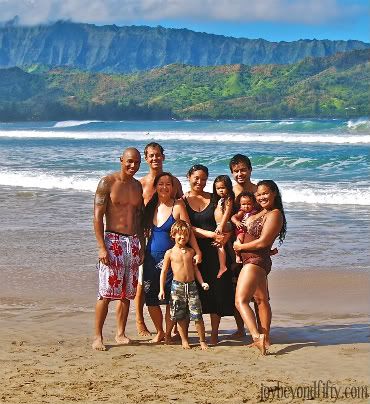 From left to right.  My oldest son, Isaiah; hubby, Michael; it's me, Joy, in front of me, youngest son, Max; youngest daughter, Jadah, holding my first granddaughter, Zoe Joy; son in-law (Jadah's husband), George; and holding my newest granddaughter, Aurora, is my first child, Jamila.