On the way to one of our favorite getaways on Kauai, the cabins among the coastal redwoods on Kauai, you pass this first view of Waimea Canyon (the Grand Canyon of the Pacific).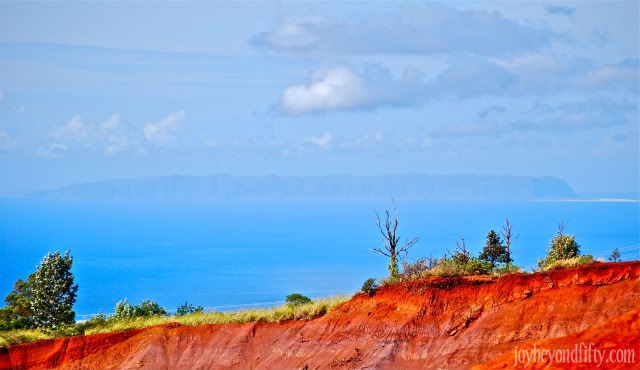 After a few road curves along the ridge, you come upon this vibrant red dirt, with a distant view of Niihau (the forbidden island) in the background.
Ever wonder how red dirt shirts were made?  Bring your white shirts to this stream and make your own.  Max finds red stream hopping more fun than shirt making.
This is our favorite cabin.  Olapa, one of the cabins available from The Lodge at Kokee.
This fallen giant redwood makes a great playground.
The chickens follow Max, hoping he has more than firewood in that bucket from the Lodge.  (It really gets cold up here, the fire keeps us warm at night, since the cabins have no heating).
Wai' ale' ale', this sign is at the beginning of the Pihea Trail trailhead.  A worthy, scenic hike when in Kauai.
Looking back at the beginning of the trail from the half mile marker.  The red dirt trail, is part of the remnants of a road that was intended to create a full driving circle around the island.  Rapid erosion led to the abandonment of this idea quite some time ago.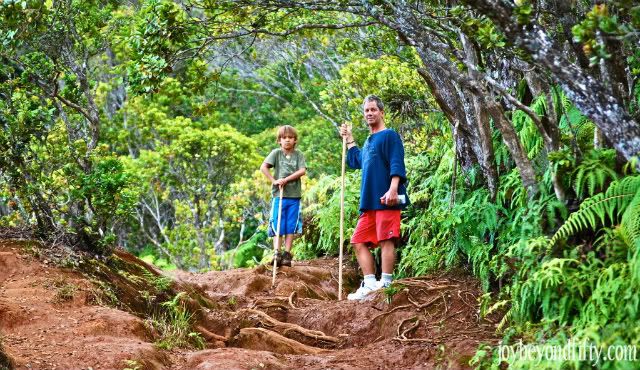 Along the hike, my boys pause amidst the Ohia tree forest.
The ferns are very cool along this trail.  The Waimea Canyon and Kokee State Parks offer so many amazing hikes.
This area on Kauai offers something out of the expected for a tropical Hawaiian Island.  Got to feel it, to believe it.
The coastal redwoods on Kauai, help curb my occasional homesickness for northern California.
Thankful for the unexpected giant redwoods atop Kauai.  It's like Lake Tahoe in Hawaii.